S2000 Self Catch Chute
sale
The S2000 is the latest generation of the Self Catch series from Powder River. The self catch headgate is designed to allow cattle to catch themselves in the headgate and permitting an operator to work the alleyway in a shorthanded situation.
The new self-catch headgate design offers advantages of a low profile floor and extra wide opening. The center squeeze utilizes rack and pinion mechanisms that aid in keeping operator and animal away from moving parts and dangerous linkages. Mechanical advantage on the lever releases for the center squeeze and the headgate make releasing animals easier than ever. The tailgate linkage allows operation from the front or rear of the chute and a side exit release is included on all 2000 series Powder River chutes. The new low profile floor adjusts easily from 15.5" to 6.5" width.
Item Number: 002-52000, 002-52007
Notable Features:
Low Profile Floor

Wide Opening Self Catch Headgate

Leverage Enhanced Center Squeeze

Left Hand Controls (available right [Special Order])

Split Kickpans

Split Easy Open Tailgate

Right Side Exit (Side Exit)

Easy Adjustable Floor Width

Available Trailer Kit

5 Year warranty
Physical Dimensions:
Total Weight: 1595 lbs.

Overall Length: 108"

Overall Height: 88"

Widest Point: 65"
Internal Dimensions:
Stanchion Height 62"

Tailgate Height 65.5"

Chute Side Height 60"
All Powder River 2000 Series Chutes Include:
All our standard chutes carry this important feature. The ability to side exit a cow is paramount for animal safety. Preventing one animal injury will pay for the value of this feature. It is also helpful for practical uses such as sorting.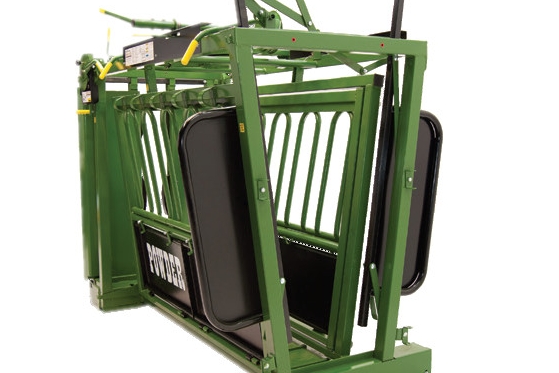 A Split Tailgate allows the operator to work from either side of the chute with minimal interference and can be closed from the normal operator position or near the back of the chute. The split tailgate is standard on all chutes except the value series. The value series features a durable drop gate with spring latches.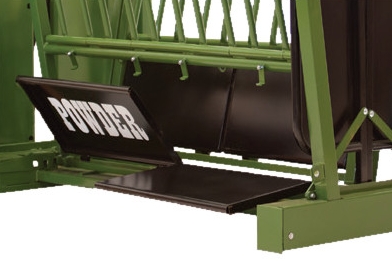 Kick panels are available on every chute that Powder River produces. Split Kick pans on our 2000 Series chutes provide quick and easy access to the animals legs or underside. Our easy kick panel latches make for trouble-free operation. Kick panels are also easily removable if needed. All Powder River kick panels are powder coated for durability.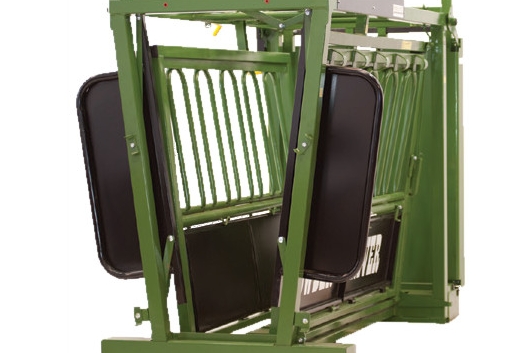 Powder River's Squeeze is superior in the market. Not only does it provide superior leverage for the operator, utilizing a double sided V-Squeeze centers and supports the animal, keeping it calm and reducing stress. The V-Squeeze on Powder River chutes is adjustable for floor width depending on the size of animals your running through the chute.
You Might Also Like